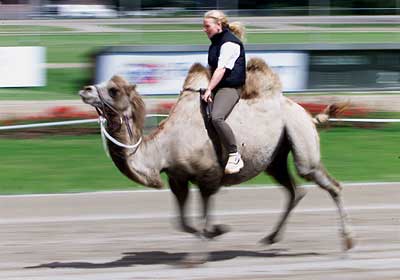 Tech news from Reuters:
Qatar plans to start using robots as riders in popular camel races after international criticism of the use of child jockeys, the Gulf Arab state's official QNA news agency reported on Wednesday. It said the robot, developed by an unnamed Swiss company, had been tested successfully and that the energy-rich country was considering setting up a factory to build them. Sheikh Abdullah bin Saud al-Thani, the official in charge of the project, referred to United Nations concern over child jockeys and said Qatar was determined to save camel racing, which is popular among Arabs of Bedouin origin.
That's, er, amazing. They could just use small adults, the way we do. But no, I like the robot solution better.