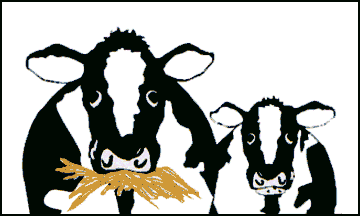 This is the kind of thing that passes through my aforementioned Global Omniscience and Domination Hypertext Editorial Arcana Display (GODHEAD): CME Celebrates Fortieth Anniversary of Live Cattle Futures Contract.
CME, the largest U.S. futures exchange, today celebrated the fortieth anniversary of its live cattle futures contract, the first futures contract based on a non-storable commodity, which began trading on Nov. 30, 1964. Live cattle futures volume has grown from approximately 59,000 contracts in 1965 to nearly 4.44 million contracts in 2003. In 2004, approximately 3.64 million live cattle contracts traded through October, with nominal value for October contracts alone reaching nearly $11.7 billion.
Not the most inspiring news story on the face of it, though with recent fears of what a mad cow outbreak would do to the global beef machine that so exercises PETA, it seems like a timely PR gambit designed to emphasize the growth and stability of the commodities system and calm the herd of investors spooked at the smell of a biowar predator lurking nearby, looking to destroy our BBQing Way of Life.
I suppose I should not talk about the GODHEAD project in too much detail, now that I actually get paid to process open-source intelligence for people trying to make money from it. It's just a bookmarked group of Firefox tabs that opens up when I fire up the browser with all the URLs worth checking first thing in the morning to gauge the drift of the Zeitgeist and to see what competitors and semi-peers are focusing their reporting on at the moment so I can think, "What would the SIN spin be on a story like this? Is this something we have the resources to dig deeper into than the other guy? What's the untold part of this story that our readership needs the details on?"
But of course there is still no substitute for knowing a bunch of people in meatspace and on telephone networks who know things about things. That method of interfacing, inconvenient as it is, will probably be with us for a while. Sure, I have a fancy PDA, but the fact is that jotting things in 50-cent reporter's notebooks is still the best way to simultaneously record and structure information on the fly, mentally editing out the bullcrud as you listen for the nuggets of newsworthiness.
Wetware is the value-add, dude, and meatspace is the bottom line.